Nothing makes a great story like a good villain.  Your hero can be shining and sanctimonious, but they are nothing without a good villain trying to take them down at every turn.
There are plenty of great villains throughout literature and cinema, but some of the most notable villains are from Disney films.  They're iconic!  And it's really difficult to pick just ten because with a few notable exceptions, they're all really enjoyable characters… or at least… characters we love to hate.
So, what follows is my favorite Disney villains – either for their villain effectiveness, or because I actually like the villain.  There's really not a lot of criteria to be on this list, especially because I don't think I've ever come across a Disney villain that isn't either totally horrible, or very likable.
So yeah.  Here are ten random Disney villains I guess.  Haha.  I tried to go with some less featured ones, so you won't find Maleficent or Ursula!
Although they're perfectly fantastic, too.
This was a hard list, guys.
Dr. Facilier
The Princess and the Frog
Dr. Facilier is my personal favorite Disney villain, because he's smart and greedy and genuinely creepy.  He's making his own terrible decisions, but at the same time, he's at the mercy of these bloodthirsty spirits.  When you think about it, it's really dark for a Disney film.
Scar
The Lion King
Not only does Scar have the best villain song (after Dr. Facilier's "Friends on the Other Side"), but he is the villain that destroyed so many childhoods. RIP, Mufasa.
Hades
Hercules
Okay, If I'm being honest with myself, Hades isn't the most formidable villain.  But I really like him because he amuses me.  And I'm not fan of James Woods, who voices him, but I think that Hades is a good add to this list.  Especially because the only thing he ruins is love… not exactly breaking up families. :'(  He's just like this sketchy mob boss asshole.
Edgar
The Aristocats
Brief overview for those unfamiliar with this older Disney film:  Old lady loves her cats and puts it in her will that when she dies, they get all her money.  Greedy butler dislikes this, and decides he will drown her cats so he can get the money.  Fortunately, cats are cleverer than Butler and survive and have an adventure coming home.  But still, Edgar gets some major hate points from me for trying to kill animals to meet his own selfish means. *cuddles cats*
Evil Queen
Snow White and the Seven Dwarfs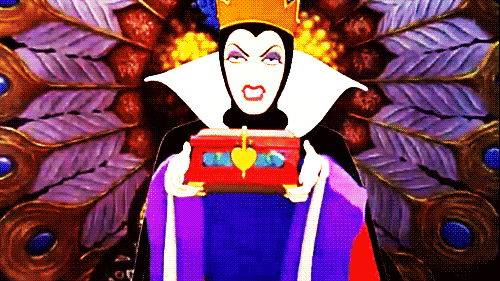 Okay, but who in their right mind tells their employee to go cut out her step-daughter's heart.  The whole uncomfortable love triangle in Snow White is … not great … but I'm a big fan of healthy family relationships and no mutilation or murder.
Ratcliffe
Pocahontas
Lets pretend for a moment that Pocahontas is not the most historically inaccurate thing every.  Ratcliffe is a total jerk.  At first you think he's just this guy who is greedy and trying to prove himself, but with the "Savages" song and absolute refusal to see the Natives as human, he proves himself to also be a violent, racist asshole.
Randall
Monsters, Inc
I really have no great defense for this, even though he's just a slimy minor villain?  I've always enjoyed Randal and liked seeing him as just-another-college-student in Monsters University.  Steve Buscemi was a solid choice in casting here.
Bowler Hat Guy (Goob)
Meet the Robinsons
Bowler Hat Guy – aka Goob – is actually more of a red herring bad guy.  You're led through most of the film to believe he's the villain, but in reality there's a lot more to this guy and his situation than meets the eye. He's a weird, greasy sorta guy… but a great villains because you are easily won over to his side. 🙂
Gaston
Beauty and the Beast
Gaston is such a terrible guy.  I mean, for one, yes, he's a little murdery.  But he takes it to the next level informing his girl of interest that she will bear him six or seven children and when she declines this very attractive offer (not) he locks her father up in an insane asylum until she says she'll marry him.  If you're dating a guy like Gaston, consider this your red flag to pack up, move across the country, and get away.
Yzma
The Emperor's New Groove
I wanted to end with a high note here, so my last villain is from a completely hilarious film, and she's sort of a bumbling villain?  That is to say – she had big plans, and terrible execution!  She's a super fun villain to watch, especially with Kronk at her side.
This week's top ten Tuesday was supposed to be about villains, and I went way to left field and ignored the fact this is a book blog participating in a book-themed tag and decided to talk about Disney.  I've still got Disney on the brain!  I hope you enjoyed it nonetheless… it was so hard to choose only ten to feature!
Who are your favorite villains (any kind of villain)?
Do you like any of the Disney villains I picked?
Have you actually seen Meet the Robinsons?  I feel like it's a really solid Disney flick that just got lost.